We feature exterior quality shade options for all of your outdoor needs.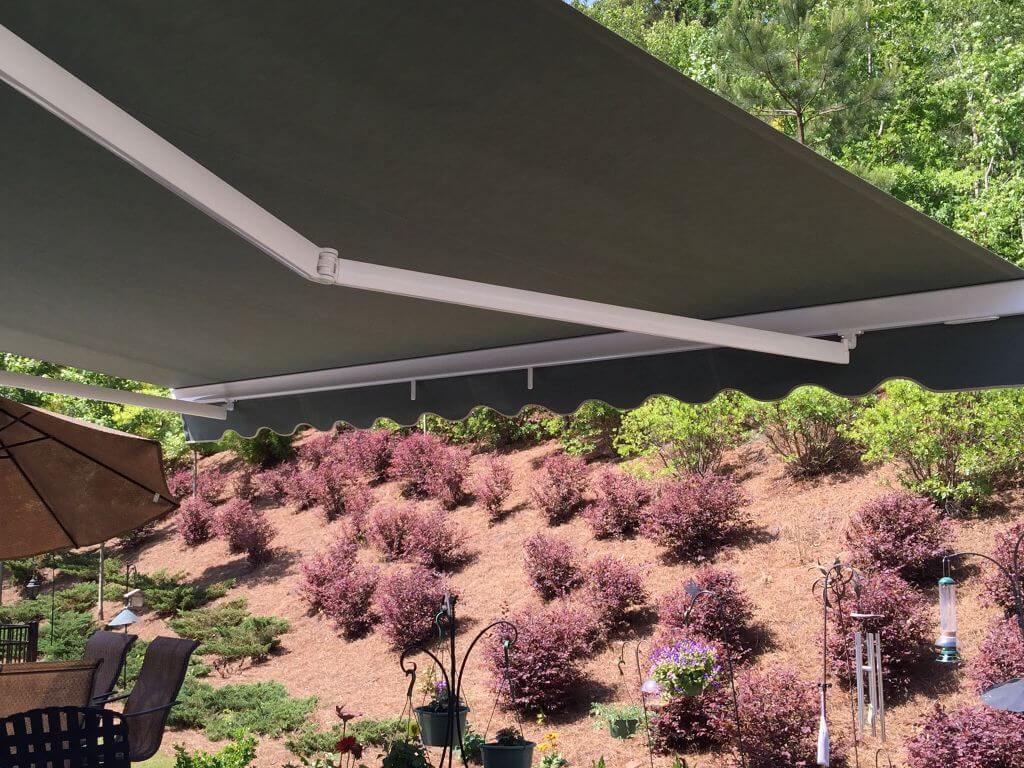 Extend Your Outdoor Living Space
Extend your home beyond the walls and expand your outdoor living space.VVith a motorized Rainier Retractable Awning. you can create instant shelter at the touch of a button — and protect your patio or deck from the glaring sun and light rain.
Fabrics Pass Rigorous Testing for Sun Protection
Sunbrella® brand fabrics hold the "Seal of Recommendation" by The Skin Cancer Foundation, an international organization dedicated to the prevention of skin cancer.
Each Rainier Retractable Awning has TUV Certification with a unique serial number. This seal indicates that your awning has been exposed to rigorous testing and complies with all endurance safety standards required for listed electrical products.This certification shows that we are held to a much higher standard than our peers, producing the most reliable and safest awning systems in North America.
Maintenance Free and Self Storing
Rainier's custom manufactured retractable awnings are easy to operate, maintenance free, and self storing when not in use.
Custom Built and Professionally Installed
Every Rainier awning is custom built to your specifications using the highest quality materials, precision manufacturing processes. and skilled craftsmanship. Trained, professional installers will ensure that your awning is correctly installed on your home for flawless performance and operation.
Stylish Shade and Shelter
Rainier awnings feature Sunbrella fabric — the best and longest lasting awning fabric available. Sunbrella is a 100% solution dyed acrylic that is guaranteed not to fade for 10 years! With 200 colors and patterns to choose from, you'll find the perfect match for your home's color palette.All Rainier retractable awnings covers are welded but where stitching is required, we sew with long lasting Tenart® Thread.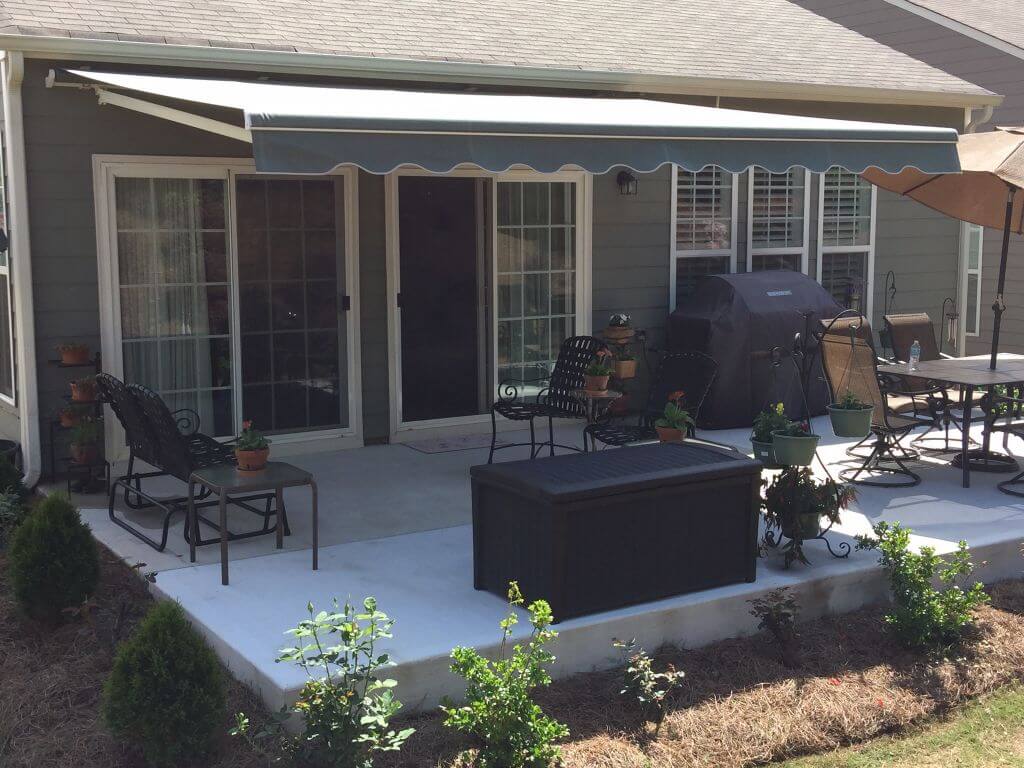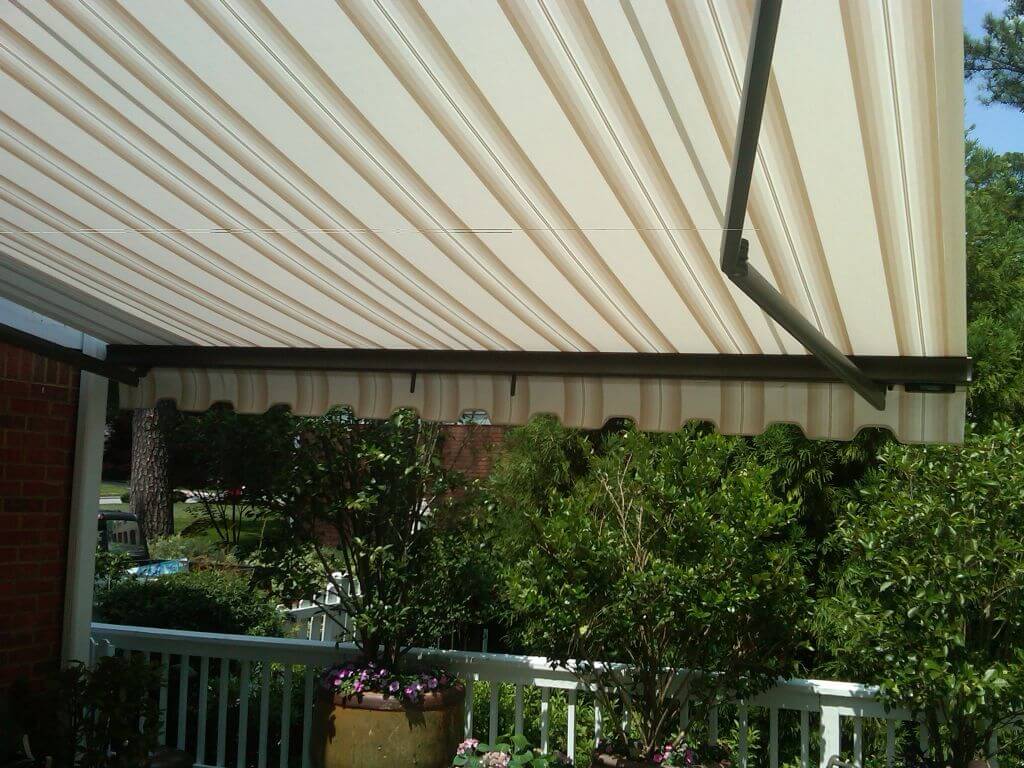 Add Charm and Value to Your Home
Make a long-term investment that adds to your home's value and appeal You'll enjoy the comfort of your deck or patio in spring, summer, and fall for years to come.
Shade at the Touch of a Button
Relax with the convenience of a remote controlled, motorized unit. Just press a button to extend the awning out fully, retract the awning into its housing, or stop it at just the right spot to keep your patio perfectly shaded. State-of-the-art Somfy motors feature time tested dependability for trouble free performance and enjoyment Add a Somfy myLink device to operate your awning from a smart phone or tablet
Rainier was founded in 1896, and were proud of our history as a supplier of superior quality products. Our state-of-the-art manufacturing facility has an in-depth Quality Management System: we are ISO 9001:2008 Certified. We are serious about sustainability – we are the only retractable awning manufacturer in the United States with ISO 14001:2004 Certification for our Environmental Management System.
Our happy customers speaks for us
"I have been using Mike at CoolScreens for more than 10 years. We just built a new home and Mike enclosed the back porch with his latest EZE PORCH product. No pollen, no wind and no rain! But most important, they are professional and trustworthy!"
"Not only have I networked with Mike and Michelle at Cool Screens for over 15 years, I am also a 2 time client of theirs. They installed new frames, screens, and the EZ Breeze clear vinyl panels in my screened in porch this winter. My family and I love our new 4 season space and could not have been happier with the process, the product, and professional crew that installed it. My highest recommendation."
"It is rare to find a contractor that cares as much for the quality of craftsmanship at his clients' homes as I know he does at his own. Mike is as professional as a surgeon and quite possibly as exact."
"Mike and Cool Screens did an awesome job! We had custom powered screens installed on our porch, and we can now use this area all year long. They are one of the most professional companies I have ever hired. I Highly recommend Mike and his team to anyone."