There is something truly magical about sitting inside your family's porch enclosure as you watch a Georgian sun slowly dip into the horizon while sipping a sweet tea and listening to the day birds make their calls to bed. This is a sacred family time when stories about school, work, and friends are brought to light as neighbors walk their dogs and BBQs kiss the tender sides of meats that send mouthwatering aromas into the air.
These are the incredible memories made with popular porch enclosures and outdoor options available for your home. These include:
Awnings
Awnings are a type of porch enclosure similar to a canopy in terms of function and design. Awnings are retractable and available in a variety of colors and sizes. You can have them installed on your porch or even over your driveway.
Awnings come in many varied materials, from fabric to aluminum to vinyl. They also come with assorted options for mounting hardware (i.e., frame-mount vs. track-mount). The best part is they provide some much-needed shade from the hot Georgian sun that can be safely stored during a storm.
Security Screens
Security screens are a terrific way to keep out unwanted pests, potential thieves, and storm damage. These screens, which can be made from a variety of durable materials and be custom-made to fit your needs. They have been explicitly designed to work in any porch enclosure area.
Porch Enclosures
Porch enclosures are a fantastic way to add more space to your home, whether you are looking for a living area, storage space, or even an outdoor kitchen. They can be made out of vinyl or fiberglass in various styles and colors. The one thing we know for sure is that you will love them! This will transform your living space into a possible year-round option for all kinds of activities and uses.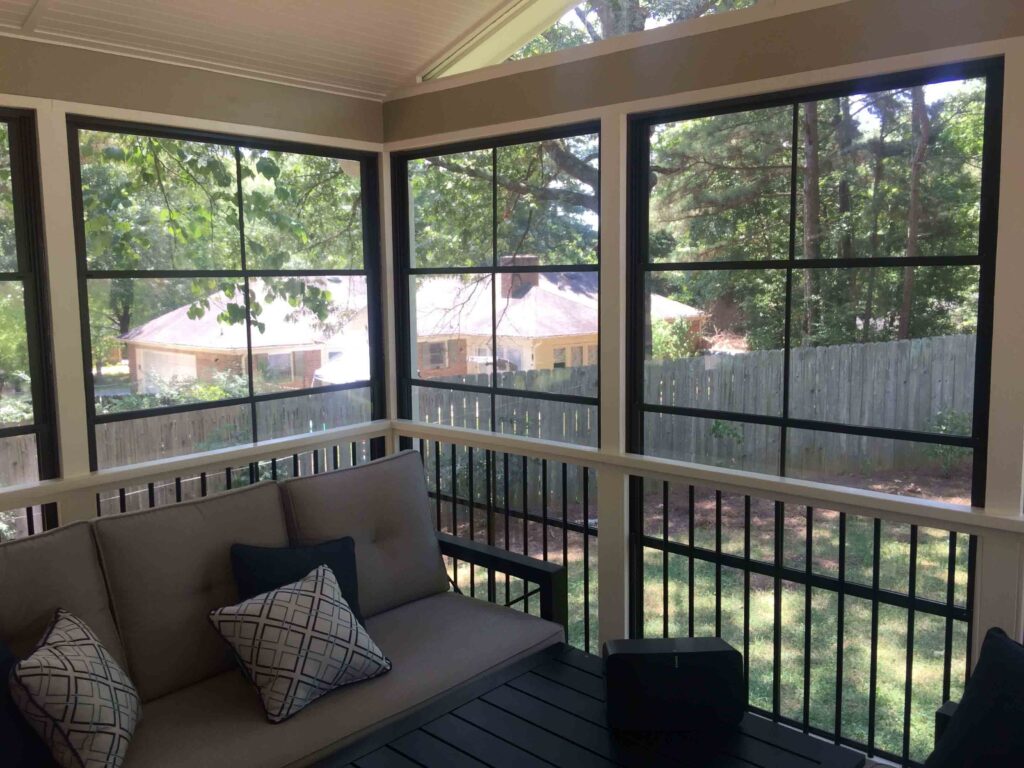 Screen Enclosures
Screen enclosures are a wonderful way to enjoy the outdoors without bugs, harsh weather, or rain. Anyone that has spent a summer or spring day in Alpharetta knows we get our share of bugs. That should not stop you and your family from enjoying the great outdoors. That is why this is a prevalent option for families that want the outdoors, but not the endless bug bites.
Sunrooms
Sunrooms are an excellent porch enclosure in Alpharetta, Georgia. They provide many benefits and can be used for a variety of purposes.
A sunroom is an excellent choice because it will add extra square footage to your home without increasing its actual footprint. Also, because sunrooms do not take up any more land than what's already on the lot, they can be built without getting approval from city officials or worrying about zoning laws (though this may vary depending on where your home is located).
Where to Get Started
Porch enclosures efficiently add extra living space to your home without undertaking any major construction. They also enhance the beauty of your home by giving it a unique and beautiful look that you cannot find anywhere else. The availability of different materials, designs, and colors means that there is something for everyone.
Talk to our professional team at CoolScreens to find the best option for your home. Our expert technicians will walk you through the wide variety of porch enclosures available, from motorized awnings to security screens to complete sunrooms that your friends and family will love. Explore our website and give us a call when you are ready to transform your home!